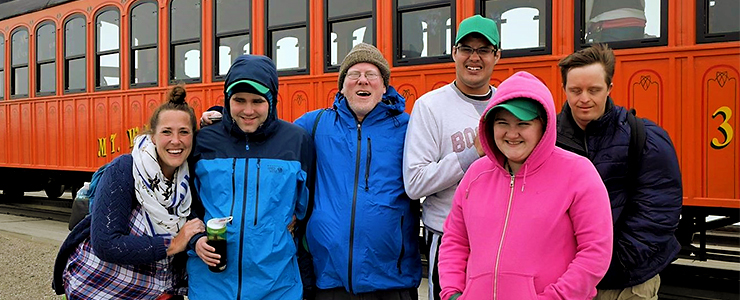 In The News
The difficulty of distance learning for young adults with autism (Boston25 News)
April 30, 2020
Developing distance learning is doubly complicated when the individuals in question have autism. In this report, Boston25 anchor Chris Flanagan looks at how it's worked at 3LPlace.
Voting is really important. Here's how to do it (CNN)

November 6, 2018
3LPlace's guide to understanding American Political Parties is featured in a CNN Election Day report about autism and voting, by reporter Michael Nedelman.
Somerville's 3LPlace: Learning, living and linking (Somerville Journal)
December 26, 2017
Somerville Journal/Wicked Local Somerville Editor Katie Bowler focuses on the ideas that created 3LPlace and more recently the beta launch of the 3LPlace Wiki, a free, online environment for sharing learning materials for people living with developmental challenges.
A Conversation with Deborah Flaschen (SCATV's "Greater Somerville")
May 19, 2015
Join host KyAnn Anderson as she speaks with Deborah Flaschen, Founder and CEO of 3LPlace, an innovative residential transition program for young adults, located just outside of Davis Square, Somerville.
The Power of Ideas: Deborah Flaschen (Boston Magazine)
March, 2015
Her new program aims to help adults with developmental disabilities navigate life after high school.
Making a place for disabled young adults to live, learn (The Boston Globe)
January 31, 2015
Reporter Bella English examines the lack of options for young adults with developmental disabilities, and how 3LPlace hopes to help fill that void.
New Somerville school offers resources for young adults with developmental disabilities (Somerville Journal)
January 16, 2015
Reporter Danielle McLean profiles 3LPlace's founder and president, Deborah Flaschen, and looks at the non-profit's plans for the future.
3LPlace Life College Opens in Somerville (Somerville Beat)
December 17, 2014
Somerville Beat Editor Elyse Andrews details the history of 3LPlace Life College and the Flaschen family's motivation for creating the new residential transition program.